ROBUSTA
design Ondřej Smolík, Jaromír Kosnar
According to its name, it is a robust, almost monumental bench of simple expression. A massive seat and backrest consisted of glued profiles are supported by two simple concrete sideboards. The joints between the wood and concrete are provided with metallic elements so that it is possible to assemble the bench in place quite easily. The shape of the bench is designed in order to be suitable for specific seating of the young generation – higher seated position on the backrest with feet on the seat.
The sideboards are made of architectural solid concrete. The seat and backrest form prisms made of glued solid wood attached to the galvanized metal fitting with hidden stainless screws. The metal fitting is firmly attached to the sideboards with threaded rods. At the bottom part of the sideboards there are four holes for possible pins. The pins are used for placing the bench into the exact position and prevent it from possible moving.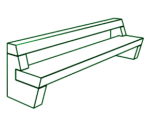 LRB1
LRB1
L×W×H: 3000×726×800 mm / 290 kg
bench with backrest / without armrests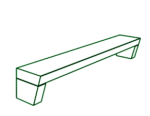 LRB2
LRB2
L×W×H: 3000×527×450 mm / 160 kg
bench without backrest

3000×726×800 mm / 290 kg
3000×527×450 mm / 160 kg
possibility of length modification
1
Product resistance
The robust structure where all the elements are richly dimensioned. It ensures maximum resistance and long durability of the bench. Despite its massive dimensions, the precise care is taken for every little detail.
2
Connecting into rows
It is possible to connect the benches into long rows when two seats and backrests are fitted on one concrete sideboard.
3
Secured against moving
The benches are not anchored to the base due to their big weight. At the bottom part of the sideboards there is a hole through which it is possible to place the bench on the pin embedded in the base. This pin prevents the bench from its possible moving.
You might be interested in