VARIO
design Jan Padrnos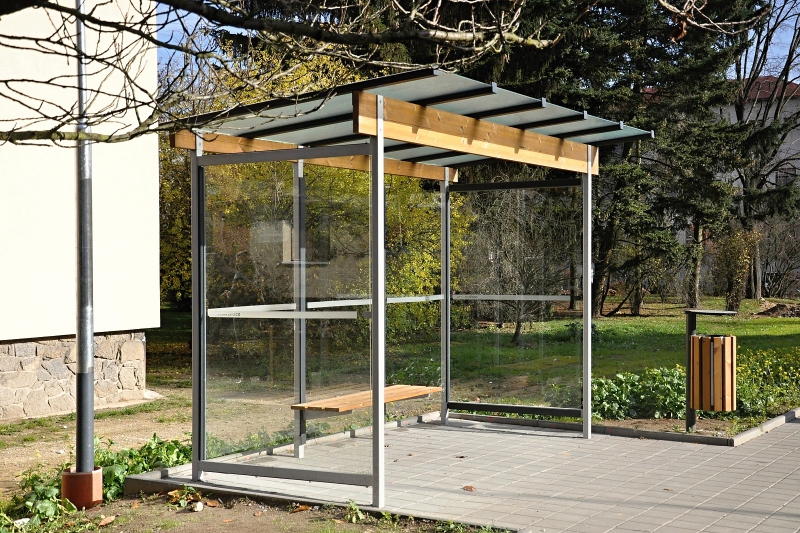 A simple shelter for bus stops with great design variability protecting passengers from bad weather conditions is more suitable for the rural environments due to its design, structure and material solution. The structure of the shelter is constructed from side walls welded from steel profiles which the wooden girders supporting the roof are attached to.
The supporting structure made from galvanized steel is treated with powder coating. The side walls are made from safety hardened glass or solid wooden lamellas, or their combination. The roof is made from safety tempered glass available in clear or SATINATO versions. The bench is made from solid wooden lamellas attached to the supporting bracket structure with stainless steel screws. The plates at the bottom part are used for hidden anchoring to the base below the ground level.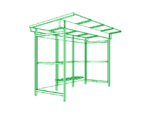 ZPV31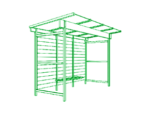 ZPV32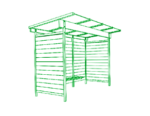 ZPV33
3800×1840×2533 mm
3800×1840×2533 mm
3800×1840×2533 mm
Not transparent SATINATO glass protects passengers from direct sunshine, especially during summer.
1
Friendly design
Thanks to the use of wooden elements on the structure and fillings, it is especially useful for the locations in the countryside or smaller settlements.
2
Affordability
The simple structure and use of wood as a structural element reduce the production costs and make this bus shelter affordable.
3
Customization
Upon your request, the bus shelter can be equipped with front walls in order to have better protection for passengers from adverse weather conditions.
You might be interested in