BERGA
design Jan Padrnos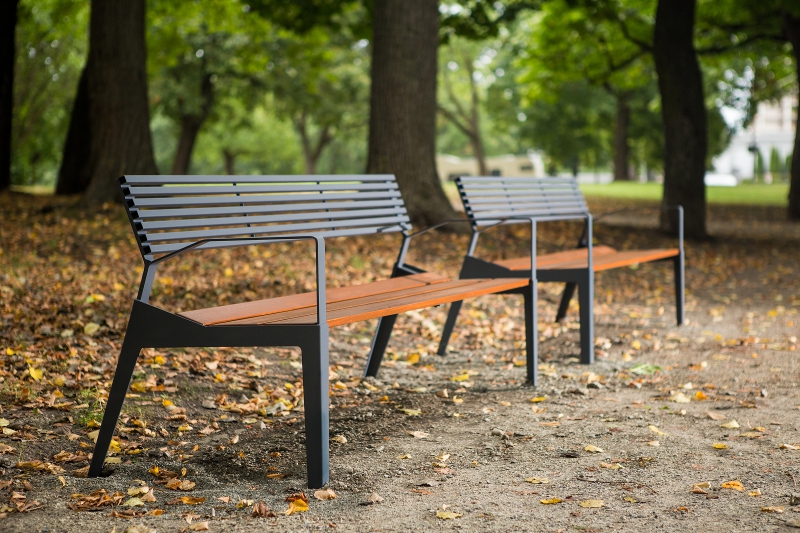 BERGA bench in a new design – a comfortable and optically light, modern bench that plays with two different widths of used lamellas. There is also an all-metal version or variation combining a wooden seat with metal backrest. An unusual but very pleasant and ergonomic feature is the back of the seat folded upward.
The supporting structure made of galvanized steel is treated with powder coating. A seat and backrest consist of solid wooden boards attached to the supporting structure with stainless screws or a grid made from steel U profiles. There are four legs for anchoring to the base.
LBG11
LBG12
LBG13
LBG21
LBG23
LBG31
LBG32
LBG33
1800×684×808 mm / 28 kg
1800×475×435 mm / 23 kg
1800×684×808 mm / 30 kg
1800×684×800 mm / 28 kg
1800×684×800 mm / 30 kg
1800×684×800 mm / 28 kg
1800×475×435 mm / 23 kg
1800×684×800 mm / 30 kg
possibility of length modification
1
Comfortable detail
The benches of straight lines and atypical details consisted of a noticeably tilted board of the seat. This unusual solution is unexpectedly comfortable.
2
Affordability
The simple, modern and cost-effective series of benches offering both the version with wooden boards and the version with the backrest made from steel pillars.
3
Longitudinal brace
The longitudinal brace under the seat significantly increases the solidity of the bench. What is more, it allows to use the wooden boards of relatively smaller thickness, which is positively reflected in the price of the product.
You might be interested in